So I don't know how many people remember this, but I said that, starting in August, I would be working on a project called
30 days of happiness.
So 30 days of happiness was supposed to be a way for me to find two good things about everyday that make me happy. I find myself spending a lot of time dwelling on the negatives instead of the positives in life. So far, it has been really great and I am finding myself appreciating things more as I go along doing the project. I look forward to sharing more with everyone in the coming days..
and now for my friday's letters...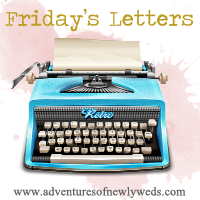 Dear Mailman, I don't know why the one day I want you to be late, you decide to come early. I wanted to send my Arm Party bracelets! Dear Anastasia, I'm sorry I have stolen your reusable cup but it is probably the greatest thing ever. Dear Emperor's New Groove DVD, I don't know where you went... but you need to come back. I miss you. I feel lost without you. Dear Friends, thank you for coming over last night and having an awesome slumber party with me. I had a great time with you all and I will miss you when you go away to college, all of you. Dear Woody's BBQ, I have been craving your pulled pork sandwiches on a near daily basis since I left Chincoteague and you need to find a delivery service that can send them to me in the best way possible. Maybe open up a place up here... please. PLEASE. Dear 30 days of happiness project, I'm glad you are going so well. Dear Seton Hall, I would really appreciate it if you could give me my new laptop so I can buy my new Vera Bradley backpack.. that would be marv.
xx,
Sierra Catherine