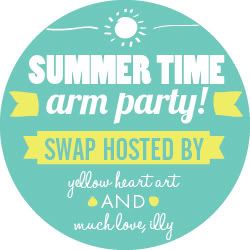 So I was surfing the interwebs and on twitter, I found out about the Arm Party! The Arm Party was an event created by the lovely Ilene and Leonora to allow people to connect by sending bracelets that they make themselves through the mail and just networking. The event was very organized and they sent me an email in a week or so telling me who my arm party buddy was. I lucked out by having the amazing Katrina Ko of
the demure muse
, who is just amazing. I definitely recommend everyone reads her blog; it's jam packed with great outfits and I love her writing style.
I was really excited for my package to arrive, and when it did, I had to restrain myself from ripping it open so I could take some photos. How cute was her packing?
I absolutely adore the bracelet. I have been wearing it everyday since. I totally did not send her something that cute. I actually forgot to send her the note that was supposed to come with it, because I was in a race to beat the mailman so it would get there on time. But I hope she loves the bracelets I sent!
xx
Sierra Catherine