So at the end of another hectic week for myself, I am taking the time to write my Friday Letters.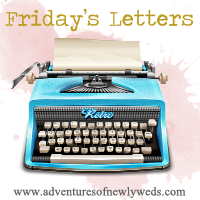 dear God
, I almost forgot you, but how could I forget you when you have been blessing me with all of these incredible opportunities to succeed? Thank you for all that you have given me and for all the amazing things that I am going to do in these upcoming months.
dear Josh, thank you for being just the most awesome guy I have ever met. It is a little weird how similar we are, but it's a good weird. You make me laugh and you have been an excellent supporter of me and my career. I couldn't ask for more!
dear Mom and Dad, Again... I feel as if I could never thank you enough for supporting me in everything I do.
dear Anthropologie, thank you for taking me in as an intern!
dear Noah, Sometimes I wish we had never met because honestly, you are such a pain and you just make everything about you and its not always about what you need.
dear twitter, thank you for always being there when I need to release all of my emotions.
dear Dylan, even though we fight, at the end of the day I know you have been the best friend anyone could ask for and I am so happy that you have found the person you want to spend the rest of your life with. I am beyond happy for you and I wish nothing but the best during the engagement and I look forward to being there for your wedding.
xx
Sierra Catherine